Onwards we go into the Spanish territory of hotness!  This is a continuation of a previous post on Football hotties. *Note: I am reposting Iker & Ramos. They are just THAT hot.
Xabi Alonso
CHECK OUT THIS HILARIOUS VIDEO OF LA ROJA
They are selling T-shirts and the customers may or may not realize that they are actually the National Team players! This is my favorite internet find on Xabi Alonso, it's at 1:02-1:03 of the this hilarious video of La Selección selling Addidas kits – some people don't even recognize them. Hahaha! Oh and the best line was also from Xabi: "It's kind of retro." Niiiiiice!
[youtube=http://www.youtube.com/watch?v=kXX_F4wJm5s]
Fernando Torres
For such a good-looking guy, it was hard finding a gorgeous picture of this baby-faced cutie. Must be all the crazy hair-cuts! I prefer his clean-cut look though. I wonder if he's playing in the finals – the striker has missed every shot this World Cup.
(image from moshpit)
Cesc Fabregas
Victor Valdes
The Third-string goal-keeper  doesn't get any camera time – La Roja has even more hotties warming the bench.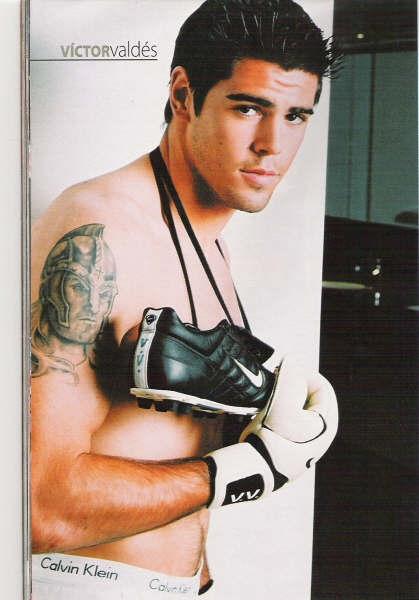 (Image: Barcaforums)
(Image: Publispain)
Fernando Llorente
(image: fotolog/fernando llorente)
Sergio Ramos
Among all of them he is the one who gives off that Armani model vibe.
(image: lipstick alley)
More amazing pics of Sergio:
Jesus Navas
For me the best looking among La Roja.
(image from twoyellowcards, the hottest compilation of La Selección group photos)
Iker Casillas
Last but not the least.
(image: OMG Iker Casillas!)
Click on this link for more gorgeous Iker photos in my previous Football Hotties post.
KEEP IN TOUCH WITH ME ON

FACEBOOK / TWITTER / BLOGLOVIN' / PINTEREST / POLYVORE
MORE FOOTBALL HOTTIES: