We try to book vacations in hotels or properties that are designed well. We look for places to stay that go with my preferred style #whiteliving, because we believe that our surroundings play an important role in our mood and mental health. I also love getting design inspiration from the spaces that we stay at while traveling.
I've been looking for weeks for a private home to rent that's beautiful, affordable and attainable for us. Right now we are still on lockdown in Metro Manila and our only options are Laguna, Batangas and Tagaytay because of its proximity.
We wanted a home that could accommodate our whole household, including our dog. Thankfully a neighbor of mine told me about this place called Dondi's Way where she and her husband visited with her kids and dog 2 weeks ago.
In the listing it says kids and pets are not allowed, but if you ask nicely the hosts are easy to talk to and accommodating. I think guaranteeing that your dog is fully potty trained helps too.
SNIPPETS OF OUR FOND MEMORIES
As I take you on a tour of this home below, I'll be highlighting the different design details that I was inspired by.
In the end I'll also be giving tips on what to bring to enjoy your vacation & keep safe while renting an AirBnB.
NON-TOXIC SANITIZER
Though the place was cleaned and sanitized before we arrived, I wouldn't have had the confidence to go on vacation without a cleaner that was 80x more effective than alcohol and bleach while still being non-toxic.
When we entered, I sprayed all high-touch areas with Purilyte making sure not to directly spray into the light switches so we wouldn't damage it. The mist is very nice and fine so it's so easy to cover. It's also food-safe, safe on hands and non-drying.
Alcohol is poison so never let your child inhale or lick it after applying on their hands. The skin also absorbs what we put on it so I avoid alcohol unless someone is sick or I'm out and there is absolutely no way to wash my hands. Read how doctor dies after being sprayed with bleach to decontaminate after attending to a COVID patient.
Consuming hand sanitizer can be particularly dangerous, both because the alcohol content is so much higher than in other sources of alcohol, and because some formulas use isopropyl alcohol, or rubbing alcohol, which is extremely potent,

NY TIMES
My BIL's cat died because his wife was addicted to spraying Lysol at home. So I avoid toxic and poisonous sanitizers like bleach, Lysol and alcohol. I'm so happy we have better options like Kurin and Purilyte locally.
On to the home tour…
DRAMATIC ENTRANCE
What makes this entrance gorgeous is that it's 2 stories high with lots of natural light from the windows. But what makes it look elegant and super refined is the curtains that go all the way around.
By having curtains go all the way around and not just covering the windows, it
Gives you the illusion that the windows go all the way around,
Diffuses and reflects light and makes the whole ceiling glow,
Keeps the temperature cool because the sun isn't direct & harsh and
Blocks the cool airconditioning from escaping too quickly to the upper floors, thus saving electricity.
It is as dramatic at night as it is during the day.
CHILL LIVING ROOM
This living room with it's comfortable plush seating invites you to lounge and chat with loved ones though it would be really cool if it had more sidetables to put our drinks on safely. The two huge lounge chairs are big and comfortable enough to sleep on.
I love how they used soft sheer curtains to define the different areas and also diffuse the sun coming in without totally blocking out the beautiful bright light.
The attention-grabbing art pieces definitely drew our eyes & popped against the all-white background. We were super careful with this fragile octopus child piece – telling my son never to bump or touch the round ottoman it is on. My MIL loved it because it reminded her of her father's art.
They were so sweet, even DiploDog had his own bed that he lounged on while we were chillaxing in the living room. We were really touched by this gesture because it felt so inclusive of our fur-baby!
BALCONY 1
This beautiful balcony with it's amazing view of Taal Lake and Taal Volcano and the lush forest underneath was the reason we wanted to stay in this AirBnB. Seriously I felt so relaxed just looking out!
We wanted the experience of openness and feeling like we are in nature in a comfortable balcony – if that makes sense!
Just sitting on the balcony when it was nice, breezy and cloudy made us so happy. I definitely recommend bringing a fan, sunblock, sunglasses and insect spray.
Our stay was nice and cloudy (but still super bright and not dreary!) in the mornings and noon. Then in the afternoons it would rain and we would watch the trees sway while the fog rolled in from the comfort of the dining area and living room.
It's a bit slippery so if you have a small dog, be sure to carry them or have them on a leash while in the balcony to avoid any accidents.
Being in nature also means there are a lot of bugs, which totally excited DiploBaby who was be enthralled with their nightly arrival on the glass windows. However for mosquitos and flies we used this beautifully & cleverly designed insect zapper/racket that doubles as a LED lamp at night.
10 SEATER DINING ROOM
If you are working during your stay, the dining table is the best place to plop your computer and work with a view. Bring an extension cord so you can easily plug in your laptop.
We loved playing games & doing art on this huge table. DiploBaby learned to play Chess and Checkers during our stay.
A glass table is not just easy to clean, but also a design details to keep the look light and airy, especially if it's this size. It doesn't take much visual space.
KITCHEN
The kitchen came complete with a 3 burner stove, microwave, rice cooker, toaster, hot water kettle, 1 pan, 1 pot, etc. Even with the caretaker's help, we couldn't seem to turn on the oven so we ended up toasting bigger pieces of bread using the pan.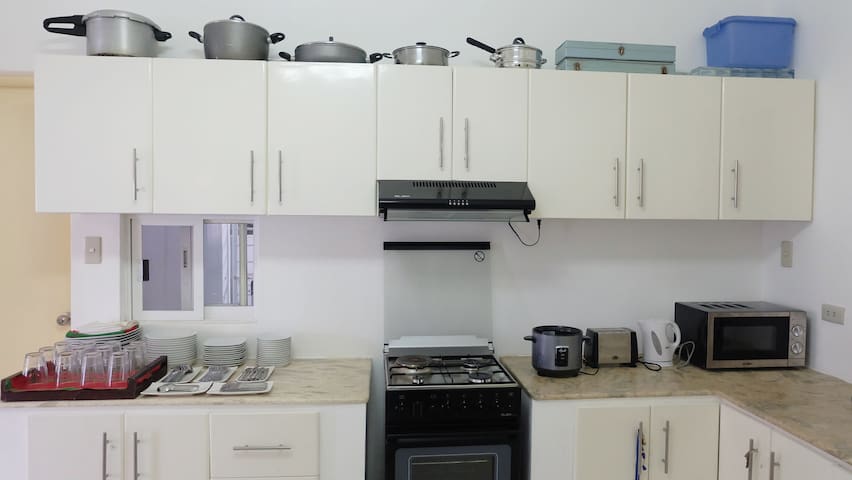 POWDER ROOM BY ENTRANCE
Having a powder room in the first floor by the entrance was very convenient for washing hands immediately upon entering.
GOING UP
I love how dramatic the staircase was while also being narrow and saving space. The flowing curtains from the ceiling really made a huge difference in keeping the space cool.
We were always careful to watch our son and carry our dog going up the stairs just to be safe.
LANDING AREA
When you get up there is a landing area which is supposed to be a game room but because it's not air-conditioned we used it as a place for our luggage. It was also our packing area before we left since it was in the center of the 3 bedrooms.
MASTERS BEDROOM
Love the dramatic details of the masters bedroom. Lots of closet space and dramatic lighting. I especially love the lit coves beside the bed that served as night lights and side tables. So clever!
The view is spectacular. It was a wonderful way to greet the day. I usually struggle waking up before 12nn because of my bipolar meds but because of the bright morning light, I woke up before 7am on our first day. I was so happy because it helped me fix my body clock to sleep earlier and wake up earlier.
DiploDog also had a bed in our bedroom. I'm sure he appreciated it, and we thought it was so sweet that they had this set out.
We didn't mind the open bathroom plan. Some people may not like it but we thought it was a clever way to keep the space feeling open. The semi transparent curtains also did a good job of blocking the cold air from getting into the bathroom.
I loved these glass shelves built into the window of the bathroom. It's such a clever place to highlight the collection of Dutch Houses from KLM! I am usually averse to collections, because they are usually tacky or too colorful, but this two-tone porcelain collection & the way stored and displayed is drool-worthy!
These original Delft Blue miniature houses are real copies of the gable houses alongside the canals in Amsterdam

KLM HOUSES
We had some technical difficulties with the tub – grounding issues – which they could not fix during our stay so we were only able to use it once. It's a nice place to have a warm bath, especially with kids. The hosts were very responsive, easy to talk to and did their best to address it. So we all shared the common shower.
BALCONY 2
One big balcony is already amazing, but a 2nd one attached to the Master's Bedroom was a treat! I loved having breakfast and coffee here during my early mornings. It's a great way to wake up the senses!
After TD had cancer, we rarely have canned goods anymore because of the preservatives but sometimes for convenience and as a treat we have it. This trip was DiploBaby's first time to try Spam. We love it with scrambled eggs and the most garlicky fried rice ever!
I'm allergic to insects so I'm always prepared with bug lotion and this beautiful bug zapper whenever I'm on the balconies.
BEDROOM 2
The 2nd room has a double bed. The AC was not working during our stay, but with the windows open at night and the ceiling fan on it was cool enough for our staff.
The guests before us did not experience these things so it was really the timing and bad luck. However, the hosts were generous and we were fairly compensated for these unforeseen issues.
BEDROOM 3
The 3rd room has two pull out beds. It can fit 4 people. We pushed them together to one side, so that DiploBaby and yaya could sleep here. Originally they were supposed to be in the 2nd bedroom but DiploBaby cannot sleep without the AC.
COMMON BATHROOM
We all shared this common shower during our stay, which was easy because we just showered at different times. Admittedly the water pressure here is lower than the Masters Bathroom, but there is a pail and tabo so it was okay.
The 2 bathrooms in the 2nd floor had shower heaters. We brought our own toiletries. Clean white towels were provided but if you are particular you can also bring your own towels like I did. I brought XL microfiber towels.
KIDS & DOGS
The listing says no kids and dogs. I think this is because of the balconies. However if you inform the hosts ahead they are very accommodating, as long as you take responsibility for their safety during their stay. We made sure to keep close watch over our babies – furry & otherwise – and we sat DiploBaby down when we arrived to tell him to establish a few rules:
No running
Be very careful & slow going up and down the stairs
No going to the balcony without an adult
We also made sure that DiploDog got walked often so he never did his business inside. We were careful with him in the balcony and we also didn't allow him on the couch or bed so that he didn't leave any hairs.
We had to be strong and say no, no matter how much DiploDog begged LOL! Even if he was so cute!
4 NIGHTS STAY
We stayed for 5 days and 4 nights to be very relaxed. We continued to work on our computers while we were there. The wifi is adequate and allows one Zoom call. So DiploBaby was able to do his virtual playschool while we were there. We did not try having multiple Zoom calls at the same time.
An electric post fell one night but power returned by 3pm the next day. We just opened the glass doors. The screens allowed air to flow without letting bugs in. We used our GoExtra90 for internet when we needed it. Imagine we only spend P360 on our phone data + unli calls to globe numbers per month?
In a way, it helped us really take a break from our gadgets. We played games and read our Kindle instead.
We had so much fun playing Funny Fish!
Enjoying treats
Just being present and in the moment
EVENINGS AT DONDI'S WAY
We loved having a glass of wine while watching the sun set from the balcony. So bring your drink of choice and they have the glasses to go with it!
One of the things I really loved about Dondi's Way is the meticulously designed mood lighting. I always design our spaces with general white lights and warm adjustable mood lighting to help calm the mood and get us ready for bed at night.
Aside from dramatic dimmable drop lamps, Dondi'a Way also has these super clever dimmable cove lighting hidden in the window cornice boxes! It's a great way to add cove lights without lowering the ceiling and super modern and timeless!
The recessed ground lights are super fabulous too. Also known as recessed floor lights or uplights, they are done in cooler lights and are just so extra!
I love that the different combination of the lights & dimmers really change the mood and add drama to the space.
It was so funny because we couldn't find the dimmers for the living room cove lights. Turned out the light switches were cleverly hidden behind art that had hinges on top! How smart is that? Instead of having not so pretty light switches in the middle of a visible wall, it's hidden under beautiful Japanese art instead!
WHAT TO BRING
Here is a list of what we brought to Dondi's Way. We didn't really plan on much sight seeing. The meals that we took outside was out of necessity, upon arrival and after checking out. Both were at this restaurant because it was the only one that allowed kids.
Kurin cleaner for washing fruits and veggies, etc.
Purelyte for constant disinfecting of hands and surfaces
Cloth and N95 Masks, more than 3 per person just in case it got dirty and we needed to replace.
Faceshields one each with box so we can put it in when not in use
Paperbag to hold & protect faceshields while we are in the car
Food & ingredients for cooking (we also bought some fish in the market, it felt safe, people were wearing masks)
Paper towels
Snacks
Wine & Sparkling water (they provided drinking water in a cooling dispenser)
Non-toxic Natural Bug Spray
Toilet paper. They provide but since we stayed 5 days we needed more.
Toiletries
Extra pillows if you are particular. They provide 8-10 clean pillows
Bluetooth speakers (optional because they have a stereo system and some CDS)
3 Foaming hand soaps – one for each bathroom but they provided some. I'm just particular about using natural castile soap for our hands
Microfiber Towels for me (no need if you're not too particular)
Laptops because we planned to work and ODL
Kindle and iPad for books and entertainment
Medicine and first aid kit just in case (important allergy meds and colds/sinus meds)
Multi-vitamins and Berocca to boost our immune system
Refillable Kujaku Tumblers containers to keep our water cold for 12hrs
What I wish we brought:
4 Hand towels for each bathroom + kitchen sink
Eye mask if you want to sleep in since the Masters only has sheer curtains
Poop drops/spray would also be good because of the shared bathrooms
Handheld Dyson vacuum – necessary only if you are staying more than 2 nights for easy cleaning. It's not a hotel so you need to do your own cleaning during the stay.
Microfiber clothes for wiping surfaces – we ran out of paper towels coz it's what we used.
We were really sad to say good-bye. It was really a much needed vacation after almost 8 months cooped up in a condo that doesn't have any balcony or garden. It really helped us reset and take a mental health break!
It's definitely better looking and more stylish than most of the AirBnBs we found. We loved our stay and would recommend it!
There were some hiccups but I felt that the hosts were very nice and they even gave us a free extra night for the trouble with the bathtub & the broken AC, which we happily accepted.
You can check out my IG highlights of our stay and posts on my Instagram! I hope I was detailed enough, but if you have any questions, feel free to ask me in the comments below!
RELATED READS:
Book this stylish AirBnB by clicking on the links below!
Complete details + booking via AirBnB
Erol was our point of contact and caretaker Neil was there for any questions/help during our stay.
Hosts Gracetita & Jen are super nice. We were very transparent with them about having guests, etc. But we didn't do any parties. Just had friends for lunch so that's just 2 cars in the garage including our own.
If you liked this post please share on Social Media? Or if want to remember it for future reference to remember the spot or the design details, please Pin it! Thanks you in advance!