This is NOT a how to, but just want to tell you about my experience getting vaccinated with MODERNA here in Switzerland after getting our first dose of MODERNA in the Philippines. This is not meant to be taken as medical advice, just recounting the different events that led us to becoming fully vaccinated. Always best to consult your physician, before deciding on how to go about getting vaccinated wherever you are in the world.
We are so happy and relieved to be fully vaccinated because this means that life will get closer to normal – though we will still be careful and wear masks indoors and when in close contact with other people who are not in our bubble. We believe that the more people who are vaccinated against COVID-19, the closer we are to heard immunity and protecting ourselves and our fellow humans from this deadly disease that has disrupted the world and caused so much fear, anguish and despair.
First things first. So many of you asked me this question:
Didn't you get vaccinated with SINOVAC in Manila? Is it safe to mix?
Yes before we left Manila, we were very lucky to get the first dose of SINOVAC from the City of Makati in the Makati Coliseum on 1 April 2021. My husband and I signed up on a Monday and that Wednesday we were able to get our first shot of SINOVAC. My husband signed up in their website and declared our co-morbidities – I have asthma since I was a child and my hubby has had 2 unrelated cancers (bone and colon). I think this is why we were able to get our vaccines quickly.
Unfortunately the 2nd dose was scheduled to far off and we already had to move to Geneva, Switzerland before we could get our 2nd MODERNA jab.
We asked our doctors in Manila and TD's Oncologist and they said that we should get whatever brand is first available and not wait to get "better brands." They also said that if we get the first dose in Manila, but because of our move are unable to it get the second dose of the same brand, it's okay and it's better to have partial protection of one dose than none at all when we travel by plane to Switzerland.
We asked them about starting with the first dose of a new brand in Switzerland, because we knew there would be no SINOVAC in Switzerland, they said it "should be okay to get the first dose of a new vaccine brand after a month." Again there are no studies to confirm this and I have friends whose doctors told them to wait 6 months before a 2nd brand.
How did you sign up for vaccination in Switzerland?
My husband signed us up online on this Geneva website and he indicated our co-morbidities. It is recommended that you use a computer to register not your phone. You can only register if you have a:
Insurance card which is required for everyone living in Switzerland
Mobile number
Apparently being obese – which I am right now due to my super high dose of bipolar meds – is considered a comorbidity here too. Then we waited for our text to inform us when our schedule would be.
I think that because he is a cancer survivor he was prioritized and got a text first, way before I did. This is how the text looks:
What's great about Switzerland is it's all very organized and information is all online. Click to see HOW TO REGISTER IN GENEVA FOR VACCINATION FAQs.
What was it like for your husband to get the MODERNA vaccine?
When my husband went for his first jab of MODERNA, they actually did not proceed when they found out that he already got a first jab of SINOVAC. They delayed it to check that it was safe. The Swiss are very sigurista like that. He was eventually received another text and we felt confident that at least the Swiss doctors checked first.
He had the usual fatigue, flu-like symptoms and tenderness on the injection site for both jabs for 2 days, but the second jab he felt much worse. He said it was like he had the flu AND was super hung over on the 2nd jab.
Getting my first dose of MODERNA
So I got a text like the screengrab above and I made sure to come early. Instead of arriving at exactly 1:30 I arrived at 12:40 which was great coz when I left later at around 1:30 the line was already long. In the entrance I was asked if it was my first or second dose and then told where to go.
Before I left the house for my vaccination, I took Paracetamol and Citrezine (allergy meds) to prevent bad side effects. I was later told it's better to wait 15mins after the shot to let the vaccine ease in into our body because Paracetamol or any other pain relief meds decreases the antibody response.
As we enter someone in the door will ask you to show the text message from One Doc to show that your appointment is indeed on that day.
I made sure to bring the following:
Insurance Card (it is the international insurance given to use by the DFA)
Medical certificate from a local Swiss General Practictioner about my co-morbidities
Diplomatic ID (issued by the Swiss government when we arrived)
I also made sure to bring my own pen and non-toxic & non-drying Purilyte hand sanitizer, just because I don't like to expose my skin to the toxic substances in most hand sanitizers. (In fact this is the only sanitizer that doesn't burn my son's skin).
When I got inside the venue, I lined up to get interviewed.
I got interviewed in one of the tables on the top right in the picture below, I just asked politely "Pardon, parlez vous Anglais?" and thankfully the guy said a little. When they say a little, it's usually pretty good already.
I gave the print out of my insurance card (I don't have the physical card yet coz we are so new here) and my Diplomatic ID card. He asked me a few questions and then gave me this piece of paper.
Then I went back to lining up here to get a booth. Normally I would blur the faces for privacy of the people in the photos, but since everyone is wearing masks, I feel confident that their privacy is protected.
I was led to a booth to wait. Once inside they move the arrow to the red portion that says OCUPÉ or occupied, which means I am just waiting for a doctor to come and administer the shot.
This is me waiting for my shot in the booth. Each booth is numbered and has a sanitizer and timer by the entrance.
Inside the booth there is a tissue box and several signs for instructions.
Close up of the signs in the booth.
This one basically says "Dear patient, you have just been vaccinated. Please patiently wait in this booth until you are given your vaccination certificate." Thanks to my IG friends for translating for me coz for some reason my Google Translate couldn't read it. Very weird.
So a lovely lady doctor came, sanitized her hands before coming in and I again asked her politely "Parlez vous Anglais" and she said yes and took my form and asked me a few questions like: Are you pregnant? Do you have a fever right now? etc.
She sanitized her hands again and then she suddenly said "Voila!" and was done with my vaccine. I actually had to take a look at my arm to check if she had injected me coz I barely felt it!
I said thank you and she turned on the timer for 15mins and instructed me to wait till the timer beeps and I receive my vaccination certificate. Once both things happen I can leave.
I observed that each time someone left a booth, someone with protective dress like below would come in and sanitize the entire booth.
I was handed my vaccination certificate and after a few minutes I heard a beep and someone told me I could leave. I went the same way I came in.
Imagine when I left this was the line. Thank goodness I arrived earlier than my schedule.
Getting my second dose of MODERNA
I got another text a few days before my 2nd dose which was roughly 1 month later. I was quite nervous because:
I heard from a few people that the lines were much longer this time – i.e. it took them 45mins to 1 hour to even enter the venue and the line wrapped around the building.
My husband had worse side effects on his 2nd dose.
I basically took the same things with me with a few additions:
Insurance Card (it is the international insurance given to use by the DFA)
Medical certificate from a local Swiss General Practictioner about my co-morbidities
Diplomatic ID (issued by the Swiss government when we arrived)
My own pen
Paracetamol & Citrezine so I can take it 15mins after my shot
A water flask for taking my meds
Taking the meds after instead of before as recommended by the CDC.
On the day itself it was raining and the weather was not good. I also arrived 10mins late, but miraculously there was no line again. I think it's because of the rain.
The process is basically the same. I showed my text message at the door, sat down for a quick interview where I showed my insurance card and diplomatic ID, receive a form to take with you to your booth and line up for a booth.
At the booth I waited for a doctor to administer the vaccine. This time I brought this yellow vaccine book or International Certificate of Vaccination by WHO which you can buy from any pharmacy. It looks like this: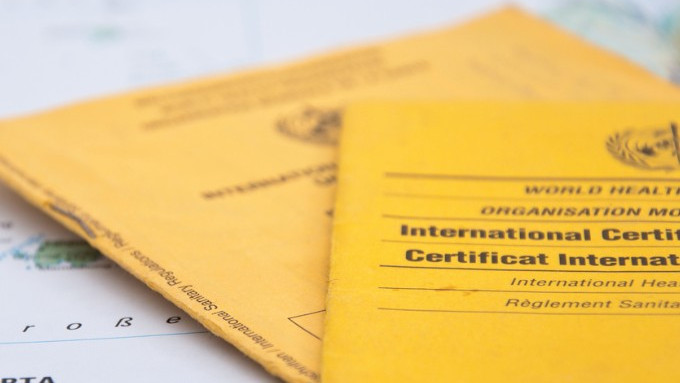 When the doctor arrived, she thankfully spoke English and this time she said the timer will only be for 5mins, but again I must wait to receive my vaccine certificate before leaving. This doctor actually counted before the jab and it was a bit more painful than the first. I was also told that the certificate would be emailed to me.
She then left with my form and the yellow vaccination book.
When the timer sounded after 5mins a guy came and asked if I already had my certificate and I said no. He asked me to wait and after a few more mins I was handed the certificate and the filled up yellow vaccine book.
I was told that this yellow was not really necessary because we can get an app that shows we are vaccinated and be able to use it to travel but I still like having my hardcopy yellow vaccination book. I left the way I came in.
When I left there were a few more people outside but not much as you can see. I felt super lucky! I arrived at 1:40pm and left at 2:21pm.
Later when I checked my email, I saw that immediately after my vaccine, at 2:14 even before I left the venue, I already received an email where I can download a soft copy of my COVID-19 vaccination certificate. How efficient!
After clicking on the link, I just have to confirm my details for security purposes and voila!
There are different venues for vaccination in Geneva. TD got his vaccination in another venue. Some people who live in Geneva might even get their vaccine outside of Geneva – like #DiploBigBro and his wife.
Even if I have been vaccinated of course we will still play it safe and wear masks inside, practice safety protocols especially when in close contact with other people. Especially because DiploBaby is not vaccinated yet.
Right now these are the people who can get vaccinated in Switzerland:
Under the COVID-19 vaccination strategy, priority for vaccination is to be given to the following target groups in the order shown:

Target group 1:People at especially high risk, from age 16
Target group 2: Healthcare professionals with patient contact/carers for people at especially high risk
Target group 3: Close contacts (household members or relatives providing care) of people at especially high risk, particularly people with a weakened immune system, from age 16
Target group 4: People in communal facilities with an increased risk of infection and outbreaks (for example homes for the people with disabilities), age 16 to 64
Target group 5: Adults (age 16 to 64) who do not fall into target groups 1 to 4
Target group 6: Adolescents (age 12 to 15) who wish to be vaccinated

Vaccinations are voluntary in Switzerland. There are no plans for compulsory COVID-19 vaccination. You can decide for yourself whether or not you want to be vaccinated.

Federal Office of Public Health, Switzerland
I hope that you somehow found this post interesting and informative. I am also writing this for myself so that in the future we can show what we as a human race did to overcome the pandemic. And so that people will know that VACCINES SAVE LIVES.
Sure just like food, some people will be allergic to certain ingredients (or some components of any vaccine) but this doesn't mean we all stop eating right? Allergic reactions doesn't reduce the importance of food, so it shouldn't deter us from getting vaccinated either.