If not organized properly, one of the most unsightly things in our closets are belts. Also not everyone has the BUDGET or the SPACE to create custom storage like these pegs: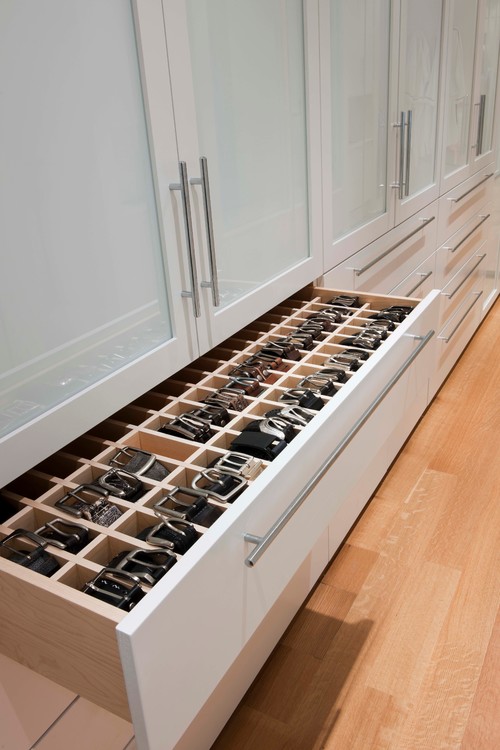 Photo by Orion General Contractors – Look for closet pictures
Personally I also DON'T LIKE KEEPING BELTS ROLLED UP because unless you have storage like above, they are in perpetual state of STRESS & just want to POP OPEN. I prefer our pieces of clothing to be at a state of REST when they aren't bein used so it's less wear & tear for them.
TD'S BELTS BEFORE
I recently organized TD's belts because it was really stressful seeing it like this AND it was taking up PRECIOUS CLOSET SPACE.
TD'S BELTS AFTER
How much neater does it look now? See my step by step how-to in the IG REEL below!
Don't forget to read the CAPTION for 5 BELT TIDYING TIPS!
WHERE TO BUY DRILL-FREE / DAMAGE-FREE HOOKS
There are a lot of options, but I chose the most affordable or value for money option here in Europe which is #1. If you are in EU, I highly recommend choosing TESA because it's cheaper. I placed the links on the US store but I registered for one link for all the Amazon stores, so it should go to the equivalent item in your local Amazon.
However if you are in the USA or Philippines, 3M Command hooks are cheaper. It's the last option below. In the Philippines you can find 3M Command in any Ace or True Value hardware store.
I have white closets of course so I chose white hooks. Choose the color that will best suit your taste & closet.
TESA WHITE ROUNDED HOOKS PACK OF 3 – The tip of this hook is also thicker than #2 so I think it will be more durable.
2. TESA WHITE SQUARISH HOOKS PACK OF 3 – The only reason I didn't get his is because the tips are slightly thinner & I'm afraid that TD might break them off, but it's another great option for belts.
3. TESA WHITE CLASSIC RECTANGLE PACK OF 3 – Personally I find the hook portion of this a bit long so you can catch it while taking your belt, but if you don't mind that…
5. TESA CLEAR + SILVER PREMIUM HOOKS – I actually wanted the white and clear version of this because the belt would hang better with the longer flat surface, but it's only 2 hooks for the price of 3 so it comes out more expensive.
6. 3M COMMAND WHITE HOOKS PACK OF 9 – This is a bit big, but at 9 pieces for only $11 this is the best option for people in the USA.
This way of organizing belts is friendly to expats & diplomats who are always moving and might not want to have a huge piece of furniture just for belts.
WHY DAMAGE-FREE HOOKS?
It's also important to have damage-free hooks, especially if there is a possibility that you will sell your closets later on. They will have a better resale value. Closets don't move well because they are usually made to measure the space you have and your next home might not have the same space or measurements.
That's why I would always recommend to move-coaching clients to sell the closets to whoever is moving into their place next. Selling it for a low price is better than having to dismantle it & spending for a truck to bring it to to the decheterrie or recycling center.
It would also be such a waste of resources if you put it in your shipping container, only to realize the old closet doesn't fit your new home.
I hope you found these tips useful! Please pin it if you did!