For this trip, we chose to only go to one museum and it's the Museo Nacional del Prado because our son has been to many natural history museums but we wanted him to also get exposed to art.
The MUSEO DEL PRADO is an art museum with Velazquez, Goya and El Greco masterpieces in a vast 12th- to 19th-century collection. It's a huge place & I recommend having 3-4 hours to go around leisurely.
TICKETS & FREE ENTRANCE
We wanted to go before there were too many people & we didn't want to wait in line for long, so even if it was 1 hr before free entrance at 6pm, TD & I paid for our tickets so we can get a headstart. DiploBaby entered for free because children under 18 go in for free. Students from 18-25 also enter for free.
See ticket prices below. If you don't want to line up for too long always buy tickets ahead. We didn't need to because it was a normal weekday before work ended.
This is the popular entrance of Prado, but it can get crowded here so we went to the back.
We followed this sign to go to the back entrance.
I am always in awe when I pass by this church. It's called San Jerónimo el Real & I find it so breathtaking on the hill.
What luck! We didn't even know but Philippine-born artist Fernando Zobel de Ayala was having an exhibition in the Prado! We are definitely looking forward to seeing this because he is my favorite Filipino artist… or maybe my favorite artist period. #ProudlyPinoy
This is the entrance we went into. I recommend surrendering in the coat check your big bags (small crossbody bags are okay to bring in) & coats so that you don't accidentally hit anything and you can go around without anything weighing you down.
AUDIO GUIDES
We usually only get one audio guide and I share it with DiploBaby. TD doesn't really use audioguides. With the audio guide, you can input the number beside the headphone symbol on a painting & get further information. I didn't use this much because I found the audio a bit shrill so it hurt my ears a little. The descriptions are also a bit long. Not all pieces of art will have the headphone symbol either.
PRADO FOR CHILDREN
If you are going with kids be sure to ask information on where you can get the map for kids. It's like a treasure-hunting map where you can check off pieces of art that you see. This really made it fun for DiploBaby & it helped us narrow down which paintings we wanted to see. The text is in Spanish so instead of checking off the text we just checked off the pictures of the art pieces that we saw.
THE GALLERY
The collection of the Prado is very impressive, but what I like even more is how bright and airy the central gallery is. It's not dark & claustrophobic so you can really enjoy the massive pieces of art.
PHOTOGRAPHY IS STRICTLY FORBIDDEN in the Prado so I found these photos online just to give you an idea. The staff are very fast & good at catching you.
One of the most famous paintings in the Prado are the LAS MENINAS or The Servants. It's so interesting how many people & elements are in this painting. At the center is the daughter of the King & Queen of Austria who are reflected in the mirror behind her. The painter himself is there too. In the side & top of the painter though a bit dark are other artworks, like Prometheus stealing the sacred fire and Vulcan forging the rays of Jupiter, Minerva and Arachne
MASKING IN THE PRADO
Masking is no longer required in Madrid but I found it interesting that when we were in the elevator, it said that masking is still recommended. I think this is more for the protection of the institution. I did wish I brought a mask because I was still recovering from all the smokers in Bernabeu, and each time I was around people in the Prado, I would have a coughing fit. I think it's because they really put on a lot of perfume/cologne in Spain – men and women! When we were in an empty room, I did not feel like coughing at all. Next time I go I will bring a mask for sure to help somehow with the perfume.
ZOBEL EL FUTURO DEL PASADO
We saved the Zobel de Ayala exhibit for last because we knew there would be less people. But we were pleasantly surprised that there were a lot of people viewing.
It's in the temporary exhibition area. We had to go up by escalator.
It was very tempting to take pictures because we were so proud to see his sketches of the Filipino Bahay Kubo (home on stilts) and other things that showed his roots, but they were equally strict here. DiploBaby was more impressed with his sketches than his paintings.
I on the other hand adore his modern minimalist paintings. I remember going to an artfair in Manila and being so impressed with Fernando Zobel de Ayala's massive almost all white paintings. I begged TD to inquire how much it was. It was 500,000 Euros or or Php 29 Million. Holy cow! That's the price of a luxury condominium in Manila.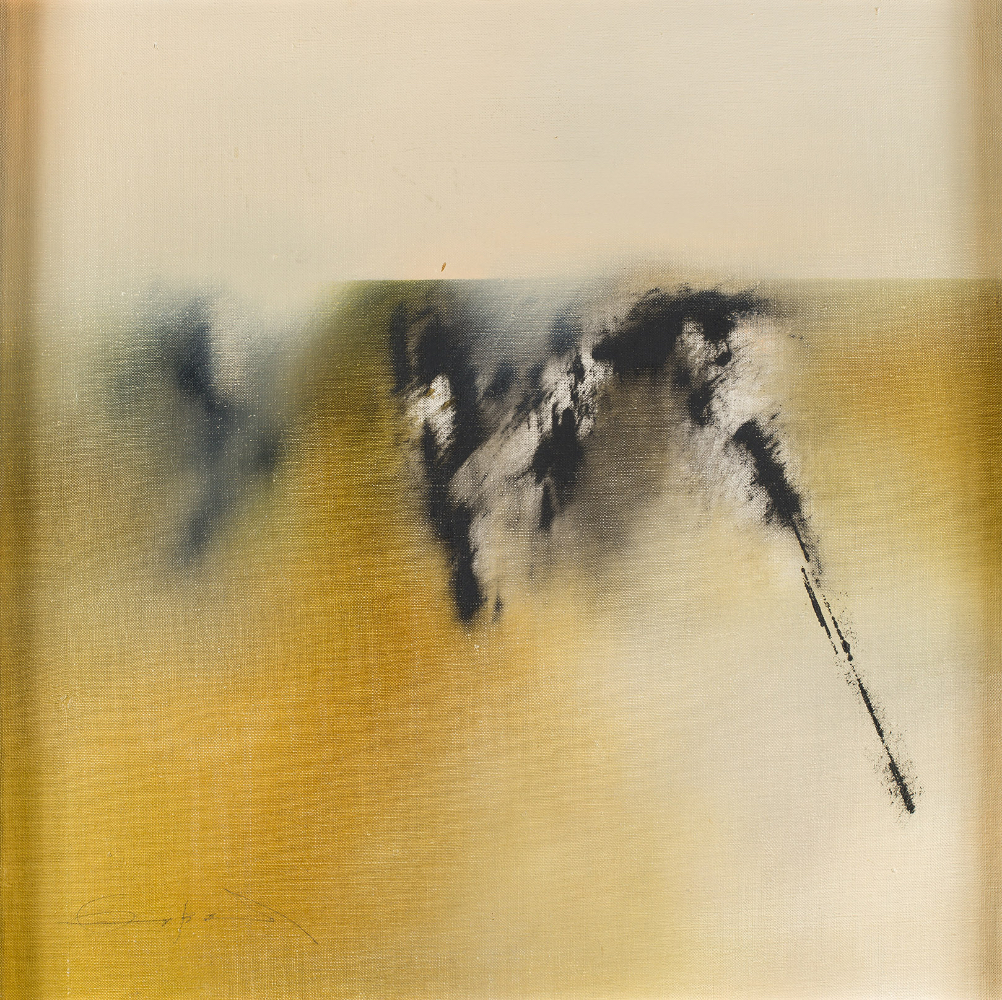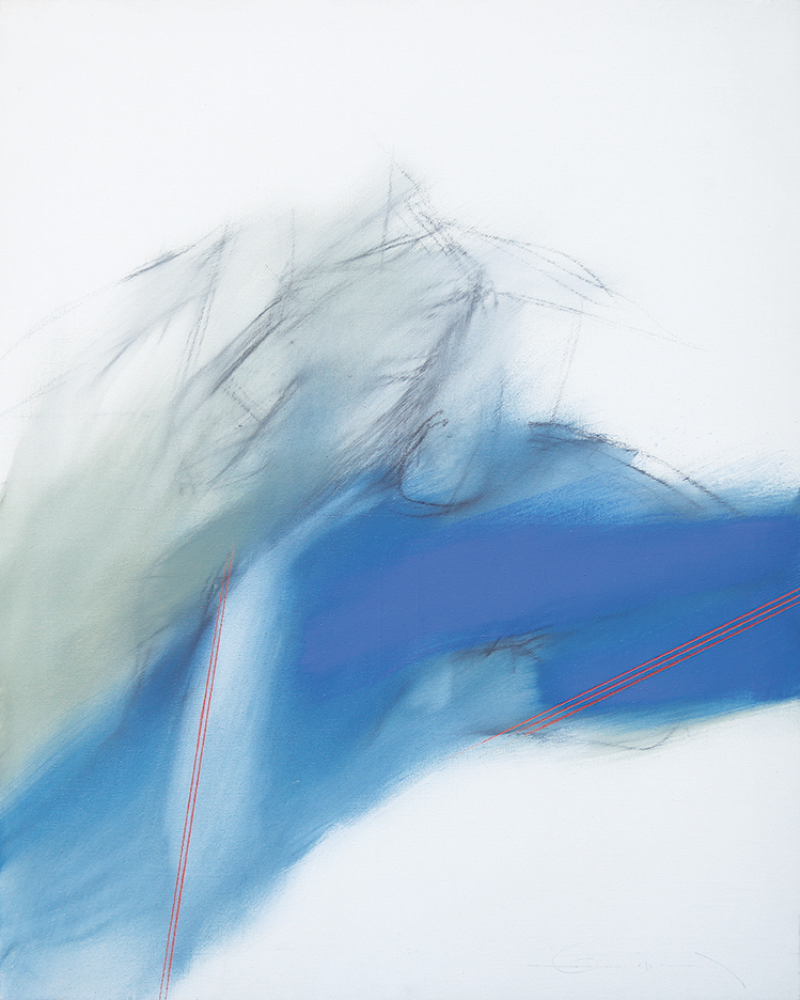 This weekend a landmark Zobel show closes at the Museo National del Prado, significant because it's rare that abstract or modern art is exhibited there.

– AMBETH OCAMPO
TIENDA PRADO
When we exchited, I wanted to buy a keepsake of this landmark exhibit and they had load of stuff in the gift shop.
I was able to buy a book on the exhibit & a print of one of his artworks. If I can't afford the original, I'm darn happy with a print. DiploBaby chose the print and it's now in our bedroom. I'll take a picture & update this post soon.
LEAVING THE PRADO
If it weren't for the perfumed people making me cough, I think we would have stayed longer but my lungs became unbearably painful & itchy. Just to show you, aside from the perfume & people smoking, we were also getting UNHEALTHY air quality warnings on our weather iPhone app.
So here we are taking our coats. It's a huge coatroom & it's so cool how the machine goes around & arrives at the number of the coat that they type into the machine.
BUY TICKET
Mon – Sat 10 am – 8 pm • Sun 10 am – 7 pm
C. de Ruiz de Alarcón, 23, 28014 Madrid, Spain
+34913302800
INSTAGRAM • FACEBOOK