Football was nowhere in my consciousness until 4 years ago and my then boyfriend (now my husband) was going gaga over world cup. I knew I was done for it because I would stay up watching football in seedy pubs/bars in Manila until the wee hours of the morning.  I was working 14 hour days then so I basically didn't sleep. You know it's True Love. 
I realized, if i'm going to stay up almost daily for an entire month, ruin my body clock and my skin while I am at it, then I might as well understand, be emotionally invested in and enjoy in the game.
Okay I'll be honest: It helps that the world-class football players are basically models. Thanks for picking the most eye-pleasing sport honey!
So to celebrate the hotness that has made an entire month of exhaustion every four years a much, much more pleasant experience, I am compiling MY list of football hotties, with links to other lovely sites to ogle at them.
I was inspired by the post of sarkastic – which I commend for doing A LOT of research/google-ing (for a non-football fan).
Disclaimer:  My taste runs on the more "commercial" side (Ronaldo was excluded from sarkastic's list but is definitely on top of mine) but this is my list. Also I'm a football newbie's so if I missed anyone, would love your suggestions in my comments box or better yet make your own list and send me the link!
It is in no particular order (except for Ronaldo who is #1 on my list) and is not limited to the 2010 World Cup.
* NOTE: I don't own copyrights to the photos. Some I can't remember where I got anymore. So sorry! Photos are attributed to their rightful copyright holders. If you own the copyrights to the photo, feel free to get in touch with me and I can place credits or take the photo down. 
I think it must be the jaw line and pearly whites that girls love. And did you see his hair in the World Cup 2010? It's the new Beckham! (Anyone know what hair product he uses? Dude the hair was gorgeous come rain, come sweat!)
Click on this to see the rest of the Armani photos. This one in particular reminds me of my dog shaking the water off after he gets bathed. Hehehe.
Zidane
Sigh.
David Beckham
(As long as he doesn't talk or smile)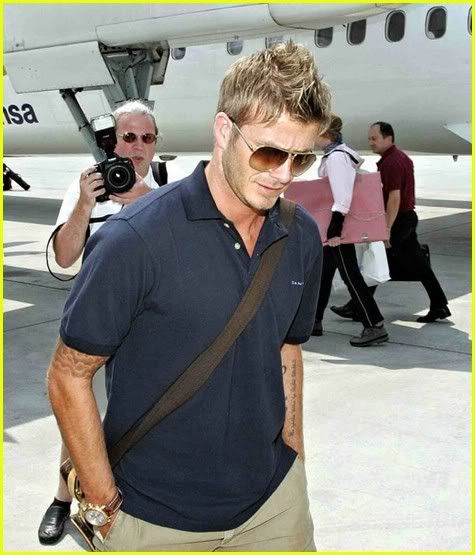 Oh here's a funny picture of him I found while I was googling.
Almost the entire 2010 Spanish Team is hot. Villa who wasn't that hot, I am sure is now looking pretty good after scoring all those goals! This is my favorite post/pics on the team – they looked divine in their suits and matching ties.
Iker Casillas or San Iker
Arguably the best goal-keeper in the world, fondly called San Iker (St. Iker) he has time and again saved La Furia Roja (The Red Fury) as it's last line of defense. Whenever an opponent attempts to score he always manages to make an almost impossible, lightning quick save – that instinct is a gift! He's called many other things: the guardian, miracle-worker, and captain of La Selección among others. This man is hot!
There are so many more pics I wanna post of him, but it will make my entry too long. Check out these cool/hot/funny pics I found!
To be continued tomorrow! Many more to come i.e. Torres, Schweinski, etc. Click on this link for the continuation.
KEEP IN TOUCH WITH ME ON

FACEBOOK / TWITTER / BLOGLOVIN' / PINTEREST / POLYVORE
Related reads: